---
Brands
Fashion can be a way of presenting and showing your true self, even though it's not a priority for some people it makes everyone feel good about themselves. It's an important factor to look the part in our society and fashion plays a tremendous part in that. I will share some of my personal favorite brands.
First, of we've got Raf Simons my personal favorite, here is some information about the designer, the growth of the brand threw out the years and of course the designer's main message that he tries to show threw his clothes.
RAF SIMONS
A DESIGNER BORN NEERPELT, BELGIUM IN 1968. GRADUATES IN INDUSTRIAL DESIGN AND FURNITURE DESIGN IN 1991 AND STARTS WORKING AS A FURNITURE DESIGNER FOR GALLERIES AND PRIVATE INTERIORS. BEFORE THIS, RAF SIMONS INTERNED AT THE DESIGN STUDIO OF WALTER VAN BEIRENDONCK, WORKING ON THE PRESENTATION AND DECORATION OF THE VAN BEIRENDONCK SHOWROOMS AND COLLECTIONS.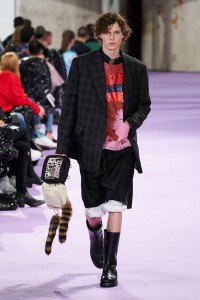 IN A RADICAL CHANGE OF PROFESSION, HEREBY ENCOURAGED BY LINDA LOPPA, HEAD OF THE FASHION DEPARTMENT OF THE ANTWERP ROYAL ACADEMY, HE BECOMES A SELF-TRAINED MENSWEAR DESIGNER IN 1995 AND LAUNCHES HIS RAF SIMONS LABEL. DESIGNS THE MENSWEAR OUTFITS FOR RUFFO RESEARCH (SPRING-SUMMER 1999 AND AUTUMN-WINTER 1999-2000).
OCTOBER 2000, RAF SIMONS IS APPOINTED HEAD PROFESSOR OF THE FASHION DEPARTMENT OF THE UNIVERSITY OF APPLIED ARTS, VIENNA, AUSTRIA UNTIL JUNE 2005.
PRESENTS 'RAF SIMONS REDUX', A BOOK BY PETER DE POTTER AND RAF SIMONS (PUBLISHED BY CHARTA/FONDAZIONE PITTI DISCOVERY) COINCIDING WITH HIS LABEL'S 10TH ANNIVERSARY. 'RAF SIMONS 1995-2005', A FASHION/ART EVENT AT THE GIARDINI DI BOBOLI IN FLORENCE, ITALY (INITIATED AND PRODUCED BY THE FONDAZIONE PITTI DISCOVERY, JUNE 2005) EQUALLY CELEBRATES HIS FIRST DECADE IN FASHION. NAMED CREATIVE DIRECTOR OF JIL SANDER (MENSWEAR AND WOMENSWEAR) FROM JULY 2005 UNTIL FEBRUARY 2012.
APRIL 2011, RAF SIMONS IS PRESIDENT OF THE FASHION JURY OF THE HYÈRES 26TH INTERNATIONAL FESTIVAL OF FASHION AND PHOTOGRAPHY. CURATES TRANSMISSION 1, A THREE-DAY MULTIDISCIPLINARY EVENT IN BERLIN INITIATED AND SPONSORED BY MERCEDES-BENZ IN JULY 2011.
APRIL 2012 - NOMINATED ARTISTIC DIRECTOR OF CHRISTIAN DIOR FOR WOMEN'S HAUTE COUTURE, READY-TO-WEAR, AND ACCESSORY COLLECTIONS. RAF SIMONS PRESENTS HIS FIRST HAUTE COUTURE COLLECTION IN JULY 2012.
AUGUST 2016 - RAF SIMONS HAS BEEN NAMED THE NEW CHIEF CREATIVE OFFICER OF CALVIN KLEIN.
APRIL 2020, RAF SIMONS JOINS THE PRADA BRAND AS CO-CREATIVE DIRECTOR, WORKING IN PARTNERSHIP WITH MIUCCIA PRADA WITH EQUAL RESPONSIBILITIES FOR CREATIVE INPUT AND DECISION-MAKING.
The most important message Raf Simons wants to communicate is:
PRIDE IN INDIVIDUALITY.
Fuelled by his love for both rebellious youth cultures and traditional menswear, he emerges in fashion halfway through the nineties, presenting a radically different image of masculinity. Fusing the energy and singularity of teenage subcultures with the sharpness and precision of classical sartorial craft, the look presented by Raf Simons is both inspired by and designed for confident outsiders.
From the first collection on, music, art, performance, images and words have a substantial role in the whole package, summing up, or rather clarifying the kind of world Raf Simons wants to project. Always at the core of his universe (and as essential as the clothes themselves) are attitudes, moods and statements about individuality and independence.
Equally important in Raf Simons' approach is the constant quest for innovation. The designs are always looking for the now and tomorrow, even if they are inspired by historical or classical references. Throughout the years, with the signature style evolving and maturing, the key elements stay the same: modern proportions, a constant research for fabrics and textures and above all the interplay of pure construction and new shapes with the body and psyche of the contemporary man.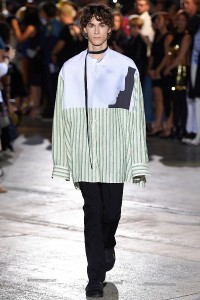 .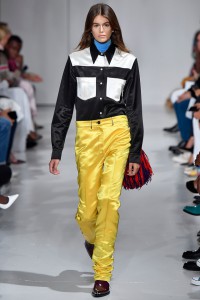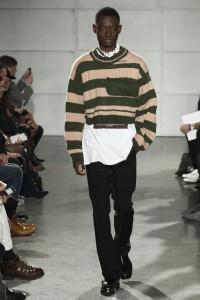 Next, we have Air Jordan...
Air Jordan
is a brand of basketball shoes, athletic, casual, and style clothing produced by Nike. It was created for former NBA player and six-time NBA Finals MVP Michael Jordan. The original Air Jordan sneakers were produced exclusively for Michael Jordan in early 1984 and released to the public in late 1984. The shoes were designed for Nike by Peter Moore, Tinker Hatfield, and Bruce Kilgore.
As legend has it, the iconic Air Jordan sneaker series almost never lifted off. Soon after Michael Jordan debuted the Air Jordan I, the NBA stepped in and banned the shoe because they featured "non-regulation" colors. Suffice it to say, Jordan didn't listen and thusly, the great basketball shoe boom began.
Below is a look at each and every pair of Air Jordan shoes released by Nike, a total of 34 in all (not counting the many colorways and variations). Next to each pair is Nike's motto for the shoe (if any) and the year in which they debuted.
Nike also produces popular sneakers for Kobe Bryant, LeBron James, and Kevin Durant.
The Air Jordan that was first produced for Michael Jordan in 1984 was designed by Peter C. Moore. The red and black colorway of the Nike Air Ship, the prototype for the Jordan I, was later outlawed by then-NBA Commissioner David Stern for having very little white on them (this rule, known as the "51 percent" rule, was repealed in the late 2000s). After the Nike Air Ship was banned, Michael Jordan and Nike introduced the Jordan I in colorways with more white, such as the "Chicago" and "Black Toe" colorways. They used the Nike Air Ship's ban as a promotional tool in advertisements, hinting that the shoes gave an unfair competitive advantage. The Air Jordan I was originally released from 1985 to 1986, with re-releases (known as "retros") in 1994, 2001–2004, and 2007–2018.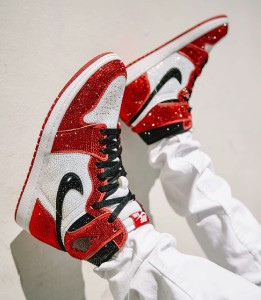 Some released colorways include:
Black/Red: September 15, 1985

White/Black-Red: September 15, 1985

Black/Royal Blue: 1985

White/Blue: 1986

Pewter/Black Max-Orange: January 31, 2009

White/Sea Green: July 4, 2009

Black/Shadow Grey-White: September 1, 2009

Wolf Grey/Spice White: July 1, 2010

Metallic Silver/White: November 1, 2010

Black/Anthracite: December 1, 2010

Altitude Green/Black: December 11, 2010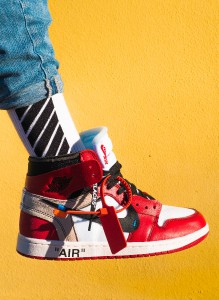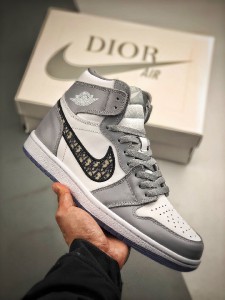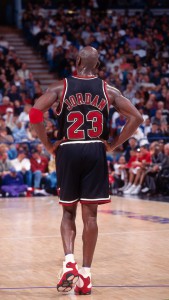 Rick Owens
Rick Owens is an American-born, Paris-based designer whose groundbreaking collections have earned him the nickname The Lord of Darkness. Influencing countless designers, his gothic aesthetic boasts a fashion-sportswear hybrid with gender-neutral design in the hottest color of the season…always black. His cult-like status means his designs can be seen everywhere from the racks of obscure boutiques to dressing the hottest names in hip hop, including A$AP Rocky who rapped "Rick Owens usually what I'm dressed in" in his 2011 hit "Peso."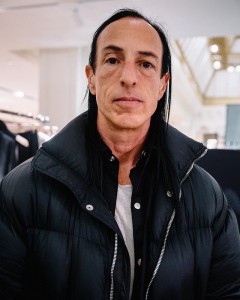 1990 Owens is hired by designer Michelle Lamy to work on her clothing line Lamy. The pair later become business partners and later marry.
1994 Owens opens his fashion line out on Hollywood Boulevard in LA, with a debut in womenswear.
2001 The first Rick Owens show takes place at the New York Fashion Week's Spring/Summer 2002 season. The show is sponsored by American Vogue with help from Anna Wintour after Kate Moss was spotted wearing an Owens leather jacket in French Vogue earlier that year. It was during this show Owens began to work with stylist Panos Yiapanis in 2001. Yiapanis has worked on every single Owens presentation since.
2002 The designer is appointed artistic director at Revillon, the French fur company. He continued to design there until 2007.
Owens' breaks into menswear. He becomes known for his twist on classic silhouettes and of course as much black as you can muster.
2003
A run-in with a mugger in LA
solidifies a move to Paris for Owens and his wife. The duo has operated from the French capital ever since.
APRIL 2010 For the first time the designer exhibits a
furniture collection
– with pieces originally designed for his Paris HQ. Inspired by shapes from Californian skate parks to the work of Eileen Gray – the collection first opened in Berlin.
JUNE 2013 Owens unveils the first of his now-legendary Adidas
collaborations
.
SEPTEMBER 2013 Owens presents his
"Prehistoric" furniture collection
at Carpenters Workshop Gallery in London, with the seven-piece collection appearing in only white and black.
The Spring/Summer 2014 runway show makes waves with a collection of
step dancers
from four different sororities – Washington Divas, Soul Steppers, The Momentums, The Zetas – replacing models.